Investing time and resources into marketing strategies is one of the best things a private security company can do to grow. Luckily, security marketing keeps getting easier and cheaper to do, especially when you have the right marketing tools that can save owners and managers a lot of time.
The three tools in this article will help you take your security marketing to the next level. You'll learn what these tools are for, when to use them, as well see a few specific options if you want to get started.
As you consider which tools to learn and use in your business, remember to go at your own pace. Don't bite off more than you can chew and only add on new tools when you feel like you actually have the time to learn how to use them effectively.
Want more help on security marketing in general? This Thinnkcurity webinar will walk you through how to create a security company marketing plan and will also go over how to use some of these tools in your business.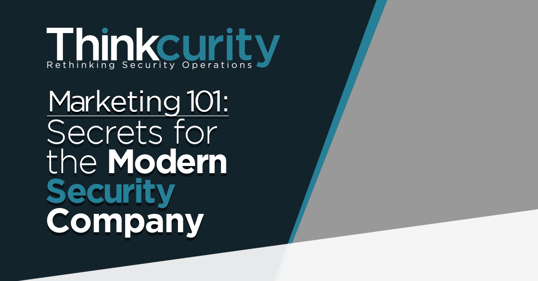 Security Marketing Tool #1: Content Management System
For most security companies, a content management system (CMS) is primarily used for designing, publishing, and managing your website.
If you don't already have a website, this is definitely the first marketing tool you should be looking to invest in. You can read this article on security company website best practices for more help.
Websites are the lifeblood of all security marketing. They are your main presence on the internet and help potential and current clients find out information about your company.
Unless you have some design experience, it's probably best to let a web design expert help you out or design and manage your website completely. Luckily, most security websites are pretty simple and you can contract a freelance designer for a reasonable fee.
If you decide to build your own website, there are a few companies that provide a number of great templates that are relatively easy to use:
Security Marketing Tool #2: Email Marketing
Besides personal relationships and phone calls, email is the best way to communicate with prospective clients. In addition to direct email contact, many security companies have some kind of email newsletter that keeps them front of mind with all of their prospects.
Email marketing tools make both of these processes easy. Through your email marketing system, you can collect emails, create and manage email lists, and schedule emails to send automatically.
You can even build out security email templates that make creating and sending new emails that much quicker and easier. These tools are a great place to start your email marketing outreach:
If you've never done email marketing or used an email marketing system before, most of these tools have a free option that will let you get your feet wet. You can always upgrade for the more advanced features later.
Security Marketing Tool #3: Social Media Scheduler
Every security company should be doing some marketing through social media. It is one of the best ways to interact with potential customers and build trust and credibility with them without actually meeting.
Your social media profiles don't have to be perfect and constantly posted on. Even just sticking to a basic social media marketing strategy can make a difference in your online presence. You can download this free security marketing guide for tips on social media marketing and more!

One of the hardest parts of getting started with social media marketing is that it can be very time consuming to create and publish posts. Plus, you might not be free during the best times to post on social media.
That's where social media scheduling tools come in. These tools let you schedule multiple posts in advance across all of your social media accounts. This way, you can set aside an hour or two each month and get all of your social media posts done at once.
Closing
If you're just starting out learning how to market your security guard company, it can be hard to know where to start. But these security marketing tools can make the process easier as you start to use marketing strategies in your business more.
If you want more help, don't forget to watch this webinar on the basics of security marketing (includes a digital marketing beginner's guide & 90 day security marketing checklist!).