For any small business in 2020, a website is as essential as a phone number. Your website serves many useful purposes for your business.
If you've never built a website before, it can seem overwhelming. Keeping these best practices in mind will start you off on the right foot and help you start getting the traffic you want immediately.
But there are some simple best practices about how and where to do all of these things on your website. This article will look at 3 best practices to a well-designed website for any physical security company:
If you are brand new to websites and overall digital marketing, check out this security guard insurance webinar before diving into this article.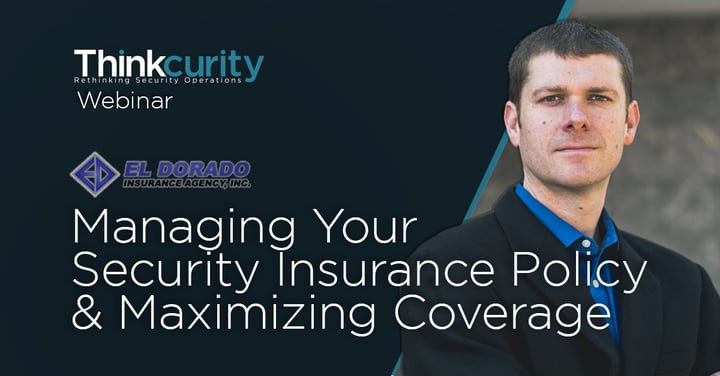 Simple Design
If you've never designed a website, you have a few options. You can hire a freelance web developer through websites like Fiverr or Upwork at affordable prices. You can find someone who will do all of the hard work for you and design a website based on your specific needs.
If you really want to take a stab at designing a website yourself, check out Wix or Squarespace.
For the overall look of the website as far as the content, colors, and layout, don't overthink it. Look at other websites from your friends or competitors in the physical security industry.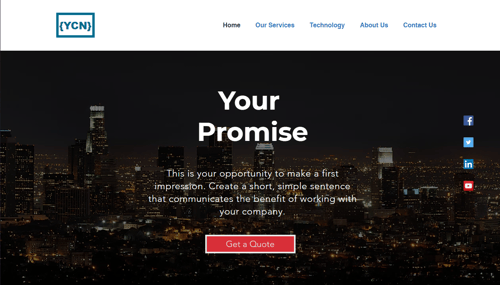 Not only can you get ideas from other websites, but keeping the design, layout, and even color scheme of your security website close to the competition is actually a good thing (there's a reason everybody's websites look so similar).
This article has some tips about what colors and fonts are good to use on any website if you're looking for inspiration. You can also check out the website template we put together specifically for the physical security industry if you want more specific ideas.
Easy to Use Website Layout
Your physical security website's main purpose is to give potential clients the most important information about your company. It should be the information they need to decide whether or not your security services are right for them. Your website's layout is the key to making sure that information is easy to access.
If you have no idea where to start, we put together this template for a simple contract security company website.
The first thing you need to think about is what pages to include on your website. You don't need to do too much to start. Just make sure to include these four pages at the very least:
Home
Services
About Us
Contact
Home - This should include some sort of mission statement or promise that you make to your customers at the very top, as well as pictures of your officers, your logo, and anything else that sets you apart.
Services - This is pretty straightforward. Talk about all of the security services you offer. Make sure you highlight anything you think makes you different from the competition.
About Us - Make a short, 1-2 paragraph page that talks about your background as a security company owner. You can say why you decided to get into the industry, what experience you have, and what you strive for with your security company.
Contact - Your contact page should be very simple. Make sure to include your phone number, email address, and physical address if you have an office. If you want you can also put links to your social media profiles here.
This article goes into a little more detail about each one of these pages. They also included a blog page as essential. We'll get into that a little later.
The biggest thing to keep in mind is that you only want to put on your website what you need. The harder it is for people to find the information, the more likely it is that people will leave. You don't need multiple pages to show your services.
Once you know what pages you want to include on your website, having a simple navigation menu on every page will help people jump between them. The menu should include the four pages listed above.
In addition to having a contact page, you should have your contact information in at least one other place on your website. The most common place is at the bottom of the home page called a footer.
Be Careful with Content
Your website will most likely be the first impression a lot of people have of your business. So making sure that you represent yourself, your company, and the security services you offer well is very important.
Search Engine Optimization (SEO) is doing things that help you bring the most amount of people possible to your website. There are countless blogs, webinars, books, and more that will teach you hundreds of strategies to make your SEO better. Here are a few basics of SEO - specifically for your website - that you should keep in mind.
Contact Information
Keep your contact information up to date and accurate. It should match everywhere online - from Facebook to your website to your Google listing. Having inaccurate contact information on your website is one of the quickest ways to lose traffic to your website.
Blogging
Google, Bing, and other search engines like when your website is regularly updated with new content. Having a blog on your security company website is one easy way to do that and also provides an added service to potential clients.
DO NOT start writing a blog just for the sake of updated content. The information in a blog needs to be helpful and informative to clients. If you don't feel comfortable blogging, the next section shows how you can still update your website without a blog.
Updated Content
If you don't have time or energy to write a blog, you can still update your website to keep the search engines happy. Update text on your homepage or tweak your About Us statement every once in a while to keep your website fresh.
Security Services
When you're talking about what security services you offer, make sure to list every different type of services you offer and every industry you serve. This is your chance to show potential clients everything you do.
Make sure that you don't list any security service or industry that you do not currently serve. If you're thinking of offering a new service, keep it off your website until it's available.
Having pictures on your website is really engaging for visitors and can help people feel like they know you. Pictures of security officers serving the community or looking professional on duty are great to have on your website.
Be very careful with what pictures you decide to put on your website. Pictures of your security officers with guns are fine if you offer armed guard services, but holding a firearm in an unsafe way or in an inappropriate place will make people feel uneasy and might even affect your security insurance policies.
Wrap-Up
A website is used as a sales tool to show potential clients the services you offer, a point of contact where people can find your phone number and email, and a place to establish your credibility through testimonials and reviews.
Keeping these three best practices in mind will make sure that you have a website that brings in more traffic, which ultimately leads to more security contracts.
Want more on website and general marketing best practices? Check out this guide we put together to the basics of security marketing.
Bonus Content - Take a look at how your website and social media could effect your security guard insurance coverage!