Even the best physical security companies can't prevent every risk. Bad things happen outside of our control every day.
Even though risk can't be completely eliminated, it can be limited. And the fewer incidents you have to report to insurance, the lower your monthly premiums will be. That's why it's important to have high training standards to reduce the chances of incidents happening.
But training is only one piece of the pie. Having the right insurance coverage for your security operation will make sure that, when those risks do happen, they don't kill your business. Certain insurance coverages are an absolute necessity for your operation:
It's important to keep in mind that the information in this article comes from research we have conducted, but we are by no means security insurance experts. Check out this security guard insurance webinar with El Dorado Insurance for an insightful training on managing & maximizing your policy.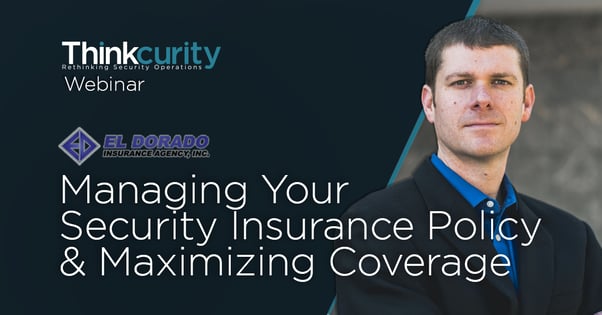 1. General Liability Insurance
General liability insurance, also known as business liability insurance, is one of the most general insurance policies a security company can hold. Most businesses, no matter what industry they operate in, will need this policy to protect their success.
It covers things like bodily injuries, property damage, legal defense, that happen as a result of your security services. This article shows a longer list of all the things these policies cover.
If you haven't yet gotten a PPO license, you will need a general liability insurance policy first. The policy needs to cover a minimum of $1,000,000 for a single loss.
In the physical security industry, it's important to make sure that general liability insurance also covers these three areas:
Professional Liability Insurance/Errors & Omissions
Professional liability insurance (often called errors & omissions insurance) covers things not included in general liability insurance. It protects a company against claims made because of negligence.
In security, this can look like giving incorrect advice during a consultation or theft because a security officer forgot to lock a door during a guard tour.
Some insurance providers will include professional liability insurance as a part of a general liability policy. This can help simplify your policies and might even make your premiums cheaper.
Assault and Battery Insurance
Assault and battery insurance is a specific type of a liability insurance policy that covers physical or even emotional harm done by a security officer. Even if an officer handles a physical altercation perfectly, your company won't be immune to a lawsuit.
This insurance is usually taken out at places like bars and nightclubs, where the chances of dealing with a violent drunk are high. But it is becoming more common in retail stores, protecting security officers in situations with violent shoplifters or crazy Walmart shoppers.
Firearm Insurance
The last thing you ever want to happen as a security company owner is a firearm being stolen or misplaced. That's where firearm insurance comes in. It will reimburse you for some or all of the costs of replacing a firearm in your company.
You will also want to take a close look at any firearm insurance policy you're considering to see how it covers liability. If a firearm is stolen and then used for a crime, there's a chance your company could be sued for negligence. Firearm insurance can help limit your liability and/or help you deal with the costs of the lawsuit.
2. Workers' Compensation
The physical security industry can be very risky, especially for security officers in the field. Making sure your employees are taken care of if something happens to them on the job should be a high priority.
Worker's compensation is a pretty standard insurance policy for most businesses. There aren't many changes to it in the physical security industry except for how injuries happen.
Like with any insurance policy, the more you have to use it, the more it will cost long-term. Enforcing safety standards in training and throughout your company can help keep workplace injuries to a minimum.
3. Property Insurance
If a security officer is unable to secure a property or can't prevent damage from being done to the property by a bad actor, property insurance will help you be covered. General liability insurance will typically have some coverage for property damage, but property insurance gets a little more specific.
4. Auto Insurance
Auto insurance in the physical security industry is pretty straightforward. It serves the same purpose as having auto insurance on your personal car. All of your patrol vehicles should have auto insurance on them through your company.
5. Crime Coverage
Crime coverage can help protect your company in a couple of ways. The first way is protection against theft and damage to company property. This will protect any company property in your offices and will protect property if a security officer is robbed on duty.
This coverage is also important because it can help protect your business from a security officer for committing unlawful acts in the field. Having only trustworthy officers in the field is a good way to ensure this doesn't happen regularly, but this will help protect you when these events do happen.
Knowing what security insurance coverage to have can be confusing without the right resources and advice to guide you through it. Watch Managing & Maximizing Your Security Business Insurance with El Dorado Insurance to get the basics on guard insurance and best practices for buying your next policy.