The three components that continually arise when thinking about successful security operations are people, process, and technology. Two other Thinkcurity articles have covered corporate security trends - analyzing the impact and initiatives on people and processes.
In this third and final article, we look at the security technology strategies that corporate security executives are implementing this year to adapt their physical security operations to the changing world. We will be looking at the data from a recent report on the State of Corporate Security done by Trackforce Valiant to understand the security technologies that companies are already using and what they are looking to implement this year.
Corporate Teams are Building a Strong Security Technology Ecosystem
Within the study, respondents were asked what security technologies they have or are looking to implement this year. Here's what it showed: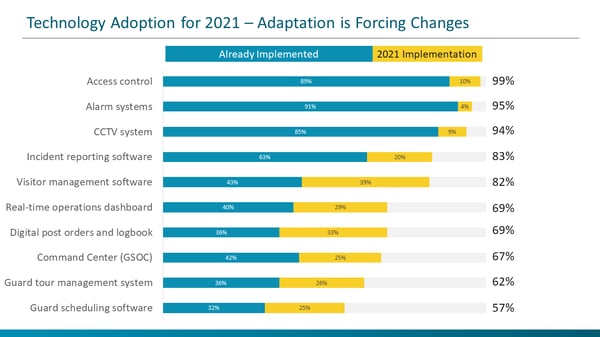 This chart gives a good visual of the overall importance of various technologies to corporate security. You can see that there isn't a single tool on this list that doesn't have less than 50% interest.
There is, however, a very evident inflection point in this chart - one that shows how technology is the last piece in the set of priorities facing corporate security executives in 2021.
This quick introductory guide on the corporate security ecosystem dives into some of this information a little deeper. It breaks down the 3 components of the ecosystem and how you can start implementing them for your operations.
Download the Corporate Security Ecosystem Guide here
The Standard Security Technology Set Remains Important to Organizations
When you look at these numbers, there is a significant drop off from what is listed as "already implemented" to what is a "2021 implementation". You can see this in detail here: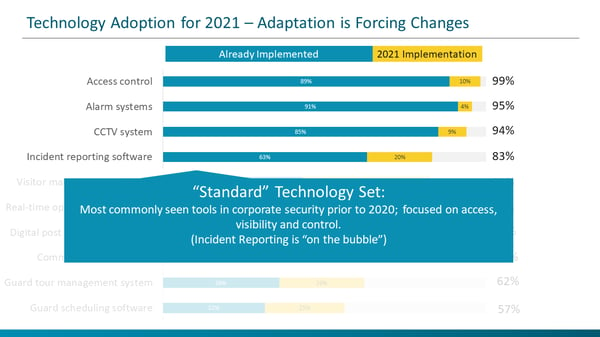 These tools are known as the "standard" technology set for corporate security, as they are common tools used prior to 2020 and are predominantly used to add visibility and control to the existing operation. Tools such as access control, alarm systems, and CCTV systems are common in most corporate settings.
Since incident reporting software has gained traction within corporate security operations, it was one of those tools that were "on the bubble" for fitting in with the standard technology set emerging in the past few years but has gained traction within corporate security operations.
Get a Complete List of Security Technology Resources here!
As a Response to 2020 Challenges, Emerging Security Technology Was Adopted and Implemented
A group of tools mentioned in the study have low existing implementation but are looking to be implemented in 2021 in larger numbers.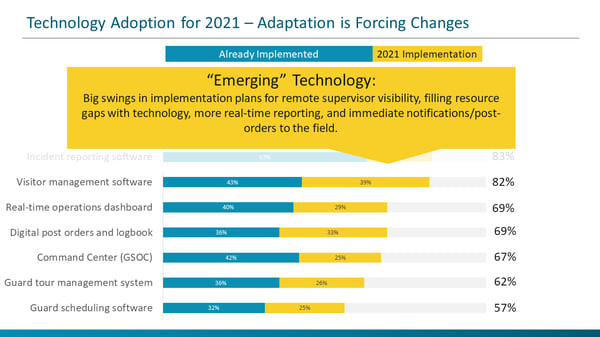 The tools in the chart above show that their use aligns with some of the challenges and priorities mentioned in the survey. Visitor management became both a major challenge and a major initiative, so it would be logical for the operation to seek investment in a solution for this.
In looking back to these challenges and priorities, themes such as accountability, having a real-time view into operations while remote, and having a central source of truth to measure and adjust operations stood out. Real-time dashboards, GSOCs, and enabling real-time notifications and post-orders are very much in line with corporate security goals entering 2021.
The Event that Became a Catalyst for Corporate Security
The COVID-19 pandemic uncovered a multitude of unforeseen gaps in processes and planning that forced companies to adapt - and to do so quickly. These changes had a significant impact on how the physical security industry will operate going forward.
These events became a catalyst for introducing new processes, re-thinking how we train and utilize the role of the security officer, and ultimately spawned a renewal towards adopting technologies that will provide more visibility than ever into security operations.
In unpacking this very compelling piece of research, it showed that traditional security companies and the teams within a corporate security operation share many similarities. However, more and more corporate professionals are beginning to adopt the tools once only used by the traditional guard companies.
Corporate security has become more invested in building a full solution that merges the people, processes, and technology to their operations. Merging all 3 enables corporate leaders to proactively seek out risk, create greater visibility, and ensure the safety and security of their employees.
78% of corporate leaders had training and accountability challenges entering 2021 while 93% shifted priorities to health and safety. How did they solve these issues?
We took an in-depth look at Trackforce Valiant's recent report on the state of corporate security exiting 2020 and facing 2021. The challenges felt throughout impacted the way the security industry handled its operations, shifting attention to bigger priorities for the long run.
Download the full report to read the most pressing issue facing security professionals in the industry.

About the Research: The research team conducted a survey to over 350 corporate security executives across a multitude of industries to ask about their top challenges and adaptations for 2020 and 2021. The majority of roles ranged from manager level and above, with companies spanning 200 employees to well over 10,000. While the majority were solely responsible physical security at their company, some worked in both physical and cybersecurity and had a good range of number of locations they managed and number of guards per location. It was from this group the research team built the study.