We kicked off our 2020 Thinkcurity webinars with David Chandler, the CALSAGA president. CALSAGA is California's security association, advocating for the betterment of the security industry in the legislature and BSIS. David has been in the industry for more than a decade, establishing himself as an industry thought leader.
David covered a bunch of hot-topics about regulation and compliance in California. Topics included information for employees of PPO organizations, badge & patch policy, firearm regulations, and more!
Not operating in California? Don't worry, this is still really important information. California is setting the national standard for physical security regulations. If your state isn't operating by California standards yet, it's probably only a matter of time before you're required to.
Check-out the CALSAGA Rules & Regulations webinar here, and don't forget to watch until the end. David answers great questions from owners, operators, and supervisors, like yourself. (Q&A starts at 46:48.)
The webinar references tons of different resources that you can look at to make sure you are compliant. We put the most important ones here for a quick and easy reference guide.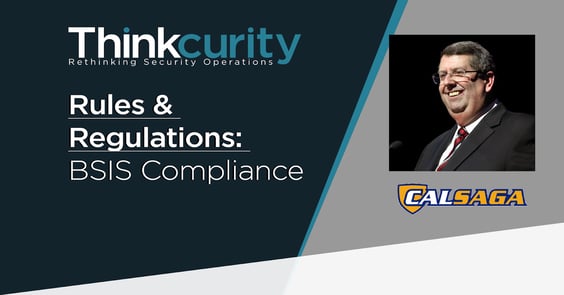 Don't forget to subscribe to stay updated on more great content from Thinkcurity!