Each year, the Bureau of Labor Statistics (BLS) releases its Occupational Outlook Handbook. This massive data event compiles wage and labor statistics from various occupations across the country, provides information on pay rates, number of employed individuals, the job outlook for each occupation, and more.
We wanted to dig a little deeper into the data on security guard salary and labor rates in 2021 and use it to analyze the total national outlook for security guard wages and labor, how it varies by state, and whether your business is paying above – or below – the median wage.
*One note about the Bureau's data is that this is collected from last year, 2020. The BLS data is always historically one year behind in order to collect a full years' worth of information. So, to see 2021's outlook, we will need to wait until next year.
How Much Do Security Guards Make?
Let's start with a macro view of wage and labor stats. According to the BLS Occupational Handbook, there were nearly 140 million employed individuals in 2020, with a median hourly salary of $20.17 or $41,950 annually. However, this number includes everyone, not specific to hourly workers, or workers in a particular field. Fortunately, the BLS breaks this down for us.
The below table shows the national wage and labor numbers and then breaks them down by the functional area. In this case, private security falls under the Protective Services area – which includes police, fire, EMT, fish and game wardens, and crossing guards. Here is where the Security Guard category stacks against the national and functional statistics:

Security guard salaries - as a subset of the total employed population and protective services - sit on the lower end of the spectrum. When you compare guard salary with public law enforcement and other front-line protective service workers, there is a common theme that security isn't as valued from a salary standpoint as other similar functions. But that's a topic for another discussion. Let's look at the Security Guard wage and labor stats from state to state.
Check out the Thinkcurity Benchmark Report on Security Guard Pay & Bill Rates!

Security Officer Employment is Not Evenly Dispersed in the U.S.
Part of the reason we see a lower national median salary range is that the average security guard salary varies widely from state to state. The BLS provides comprehensive employee counts for contract security, which shows the breakdown of the 1M+ guards in the U.S.: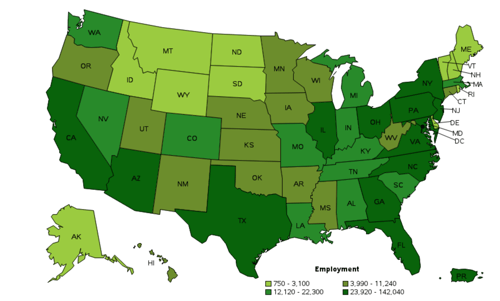 Just looking at the darker, more populated areas, you can see that some areas employ more security than others. Major ports of entry, major metro areas, and high industrial areas tend to be where the most demand for security jobs exists. Below are the top 5 states employing the most security guards:
| | |
| --- | --- |
| State | Number of Officers |
| California | 158,150 |
| New York | 106,850 |
| Texas | 86,310 |
| Florida | 80,990 |
| Illinois | 40,770 |
All of these states meet several conditions that demand more security services. But does higher demand mean higher pay? The next question to answer is whether security guard salaries in each state are tied to the number of guards employed.
Security Guard Salary Rates Vary Dramatically by State
While the national average salary for a security guard is relatively low compared to all protective services, some states pay much higher wage rates to guards than others. Taking into account that not all states are created equal in terms of number of guards, how does that impact salary?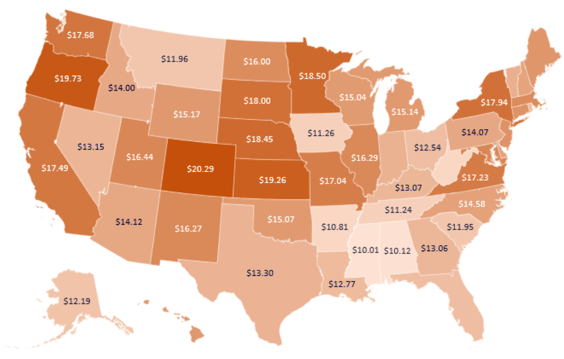 There are some similarities, but it is not a direct relationship between number of guards and the pay scale. The heat map above shows a common dispersion, but the top paying states aren't necessarily the states that employ the highest number of guards. Below are the top five states in terms of security guard salary in the U.S.: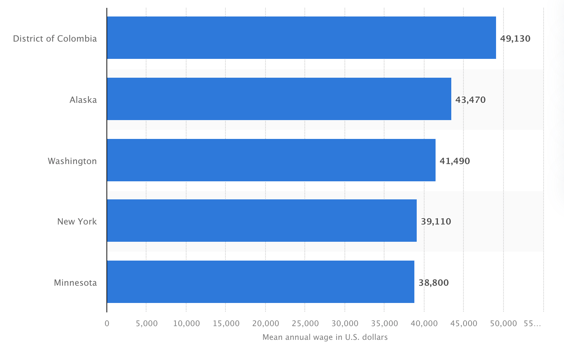 Only ONE of the top five states for security pay rates also falls into the top five states for number of guards employed, and that is New York. Security guard salaries in Washington DC and Alaska, however, are some of the highest in the country despite employing a much lower number of guards. This is primarily due to government opportunities for private security companies and security contracts for critical assets such as pipelines and refineries.
What are the lowest median security guard salaries in the U.S.? We wanted to take a look to see whether there was any correlation: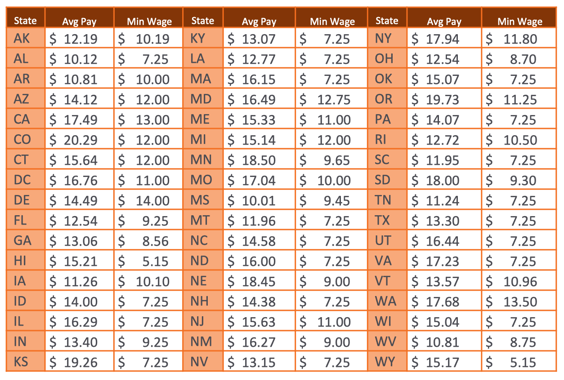 One thing you will find in this data is that there is also a correlation between the overall income rates of the states to the wage rates. Census data suggests these states are on the lower end of median household income across the U.S. And with a lower need to protect specific asset categories such as government, high industrial areas, and major metros, you will see a lower threshold for what is tolerable for security salary rates.
The Bureau of Labor Statistics is a Guide, Not the Gold Standard
Leveraging the Bureau of Labor Statistics as a way of seeing how guard salary and labor rates compare across the U.S. is a great benchmark for seeing how your security business stacks up. However, it is just a guide, something to point you in the right direction.
Plenty of other factors need to weigh in when it comes to making your security guard salary rates competitive. For more information specific to the security industry, check out this benchmark report on security guard pay & bill rates.