Digital marketing is an essential piece of any modern business, but a massive amount of information on the internet can make getting started overwhelming. And while a lot of tactics work for other industries, they're not always transferable to private security companies.
Our business development and marketing webinar, facilitated by experts with over 50 years' of combined experience in security operations and marketing, is a learning event you can't afford to miss. It goes over the basics of digital marketing for security companies and covers best practices business owners can use to acquire new clients in the modern security market.
This article summarizes some of the key learning points of the webinar and shows you exactly how to get started building a simple and effective marketing strategy for the best return on investment in your security business.
7 Digital Marketing Strategies for a Private Security Company
Once you have established a brand identity for your business, it's time to make a name for yourself and start bringing in revenue. These seven elements of security marketing are essential to any modern business. Even though they might seem intimidating, it's very simple to get started!
1. Website
2. Content Creation
3. Local SEO
4. Social Media
5. Email Marketing
6. Online Advertising
7. Measuring ROI
1. Build a Website for Your Private Security Company
Most, if not all, of your digital marketing strategies for a private security company will focus on getting people to visit your website. Think of it as your digital storefront. Getting people here will give you a better chance to speak with them on a more personal level.
And luckily for you, getting a website running has never been easier or cheaper. We have a detailed security website template designed for the security industry to help you get started. These seven sections should be a part of any security company website:
About Us - This should feel personal and relatable. Tell people who you are, your business history, and how long you've been around. List leadership and key team members with headshots. This is your first chance for people to get to know and trust your business.
Services - Marketing your security services is the best way to show people what sets your company apart. All your service offerings should be mentioned on your website but be sure to emphasize those that are unique or special to your company. If you offer private investigations, parking management, K9 units, specialize in large event security, etc., this is where these services should be found. Be sure to prominently display any promises or guarantees you make your customers.
Resources - This is where you should offer additional value and knowledge to your prospects, such as downloads of guides, white papers, or customer case studies.
Blog - A blog helps you drive website traffic, promotes your security services, and most importantly, builds trust with your prospects. Publish timely articles on how your security business stays atop of industry trends.
Contact Us – It's worthwhile to include (in a very visible place on your website) at least the main phone number and an email for general inquiries. Beyond this, your contact section should include the complete physical business address, phone number, specific management emails, hours of business office operation, and social media links.
Reviews - Client reviews will help build trust in your company. Don't be afraid to ask your best clients for a review. You can also include reviews that people leave on places like Google and Yelp.
Credibility - List any partnerships or associations you have (ASIS, CALSAGA, or even Silvertrac Software) as a way to reinforce your authority as an industry leader. If they're okay with it, list reputable clients in your service area who can positively vouch for you.
Email - We'll talk about email's role in security company marketing in a different section. For now, just make sure there is a visible place on every page for people to give you their contact information.
2. Create Content for Your Private Security Firm
Content is an essential part of any security marketing strategy and one of the primary ways to establish yourself as a leader in the security industry. Blogs, guides, case studies, and videos are all great content pieces for generating website traffic and leads from search engines, plus they can be posted to your social media sites.
Always try to include a strong call-to-action (CTA) at the end of each piece. Examples of CTAs are:
Book a demo
Get a FREE security consultation
Subscribe to our newsletter
Free trials (if technology or training-related solutions)
Download the article (guide, white paper, case study)
Try to plan blog topics or case study interviews a few months in advance so you are not scrambling to keep up. We recommend creating a content calendar on a spreadsheet to track your content and publishing it on a regular basis, like a new blog article every week or two.
3. Use Local SEO to Improve Your Company's Visibility
Search engine optimization (SEO) helps people find your private security business online. The higher your website appears on search engines like Google or Bing, the more traffic you will drive to your website. SEO for security companies, especially newer ones, should prioritize attracting local customers.
Think of search engines as a concierge at a hotel. Their job is to present online customers with the best options for any product or service they are looking for. Optimizing your information online and collecting customer reviews is a business' way of convincing search engines that you are the best option.
How to Claim Your Google My Business Listing
Effective local SEO for security companies starts with local listings. Local listings are added to online directories, and some of the biggest directories are owned by the world's top search engines. Start by establishing the search engines you should "list" your business on first. Google and Google Maps are king; plain and simple. Having your Google Business Profile completed is the best opportunity for people to find you. Claiming your Google listing is a simple process and can be accomplished by anyone with a Gmail account.
How to Claim Your Yelp Business Listing
The second place you should go is Yelp Biz. Yelp offers great visibility in searches based on location, like your target service area. Yelp Biz will likely have less competition than Google in categories like "security services." It is also a great place to get reviews.
Register with Bing in 3 Easy Steps
Lastly, you should claim your business on Bing Places. Bing is referred to as the "afterthought search engine." This means less visibility, but it also means less competition for younger companies.
Now that we've established the best places to list your security business, here's what you'll need to do to accurately list your business for free in just a few steps.
Claim your security company listing using a personal business email.
Make sure your name, address, and phone number (NAP) are up to date and correct.
Add important business information. This includes things like your security company logo, company description, hours of service, contact information, and more.
Select your categories. "Security Guard Services" and "Security Services" are typically the best options for contract security organizations.
Add unique images of your business like your guards on-site, vehicles, etc. to increase brand visibility.
Save all your login passwords for future use and watch your business get more visibility!
4. Embrace Social Media for Your Physical Security Company
Social media has grown into a critical component of the digital marketing mix in the past 10 years. Prospects, customers, and potential employees will be looking for you online and likely visit your social media channels to get a better idea of who you "really are" before they reach out. With that in mind, social media marketing for security companies can be an effective strategy to connect with potential clients.
Utilizing Social Media Platforms
Understanding which social media sites make the most sense for your security business and knowing what kind of content to post on each can be confusing. If nothing else, use the big three to get more attention on your business: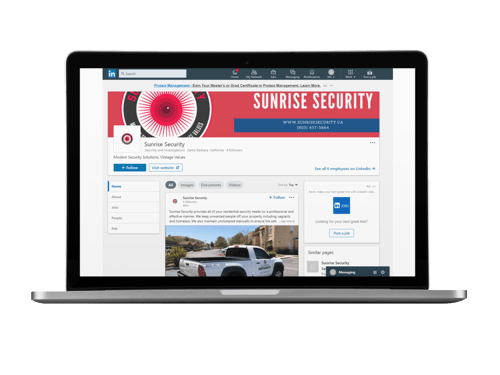 Maintain Professionalism at All Times on LinkedIn
LinkedIn

is the most professional social media platform. It's the place to demonstrate your security industry expertise to prospects and a great way to network with other professionals. You can also have employees link to your business as an employer on their profiles.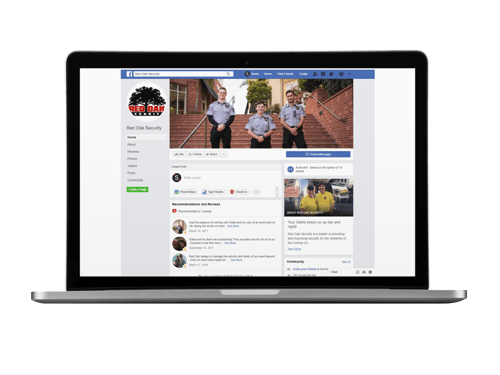 Highlight Your Greatest Work on Facebook
Facebook

is one of the most widely used social media platforms. This article shows you how to create a Facebook business page quickly and easily. When posting on Facebook, use a mixture of photo and video content. Make sure to regularly include links to your website in your posts.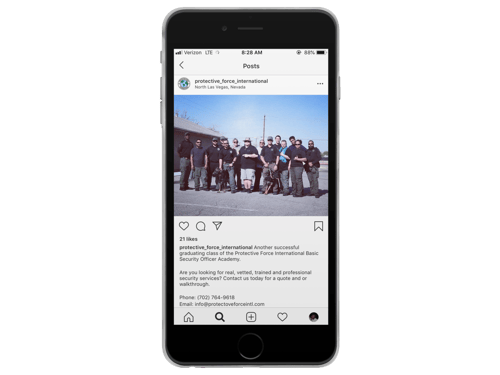 Keep it Mobile-Friendly on Instagram
Instagram

is a visually focused social media platform. This is the place you will want to post high-quality, mobile-friendly pictures and videos of your team in action to help people feel like they know you personally. You can also tag people and businesses and use locations to increase how many people see your posts.
Managing Social Media Accounts
Once your social media profiles are set up, it's time to start posting and be "social." Don't let this part overwhelm you -- posting to social media shouldn't take very much time. You only need to post about three to five times a week on each social media profile (LinkedIn can be less.)
If you use a social media scheduling tool like Hootsuite, you can easily schedule all your posts for an entire month in just a couple of hours. And if you're still not comfortable? Delegate posting to an employee who knows social media.
The type of content you post is very important. The best piece of advice is to stay personable. Again, social media is how potential customers can get to know you on the internet. You want to advertise your services but not annoy people.
5. Make Connections with Email Marketing
Email marketing is one of the most efficient ways to gather contact information from interested consumers. It makes it easy to stay in contact with them over time.
Email marketing is a middle ground for people who haven't committed to your services yet and is a way to add value to current customers. In this section, we'll go over how and where to get email addresses and what to do with them.
Keep your email form simple. Decide what information will be useful - usually this is at least a name and email address. Seconds matter in the online world, and the longer it takes for someone to fill out your form, the less likely they will do it.
Offer something in return.

People don't hand out their personal information without good cause. Give them a reason to trust you. This can be as simple as a free consultation, registering for a newsletter, or receiving free advice. Use this as a chance to give your company more credibility.

Build a database of emails.

The first way to collect emails is through your website. You should have an email form prominently displayed on the homepage of your website as a minimum; putting them on multiple subpages is recommended. Consider putting a pop-up form when people first enter your website or when they visit a new page.

Collect emails in-person.

Collecting emails can also be done in-person. Networking events, personal connections, and referrals are all great ways to acquire email addresses. Make sure to get business cards that have email addresses on them or enter them into your phone to avoid handwriting errors.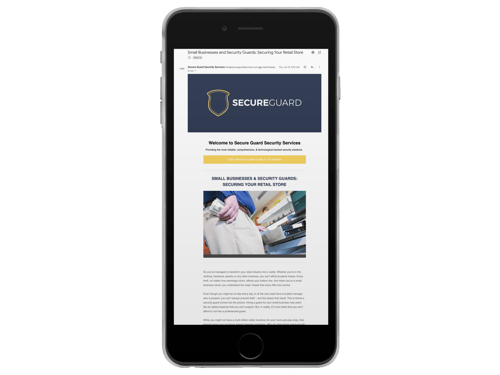 Weekly or Monthly Newsletters Keep Prospects Informed
Send messages regularly. Once you have a list of email contacts, aim to email them between once a month to once a week to build trust and relationships. Send out a mass email to all your contacts (utilize the BCC function to avoid sharing email address lists). Use this email to convert non-customers or upsell current clients. Offer discounts and give updates on new service offerings. Send updates about company wins or the security industry.
Automate the email process. There are some great email marketing services like MailChimp or Constant Contact. They will help you build lists, write and send professional emails, and track statistics.
6. Develop Online Ads for Your Private Security Company
While the cost barrier is higher than other digital marketing tactics, online security company advertisements can be a powerful tool for reaching potential clients. Here are a few of the most common types of online ads that are part of the most effective marketing strategies for security companies:
Paid search ads (such as Google Ads) are often a major part of any digital marketing strategy. Why? Because it allows you to instantly rank at the top of a Google search with a text-based ad served to people that are actively searching for your security services. How good is that? Plus, you can target these ads to any geographic area, right down to a city or specific zip codes. Careful though, it can get costly if your keyword list of too long or generic, or if your target area is too large.
Display ads are great for brand awareness and driving traffic to your website. They are graphic-based advertisements for your business that run on popular websites. They can be purchased through the website, like a local or industry publication site, or run on a network of websites like the Google network. Be sure to embed a link to your website in a "Visit Us" or similar button.
Social media ads are small text-based, graphic, or video ads that run on platforms like Facebook, Instagram, LinkedIn, or Twitter. They can be used to promote your content and posts.
7. Measure the Success of Your Security Company's Digital Marketing
Having all this information is great. But if you don't know how to measure it, it's difficult to know what's working and what's not. Return on investment (ROI) for any security marketing decision is critical. There are two ROI metrics that will help you track the impact of all of your digital marketing strategies and make cost-effective decisions.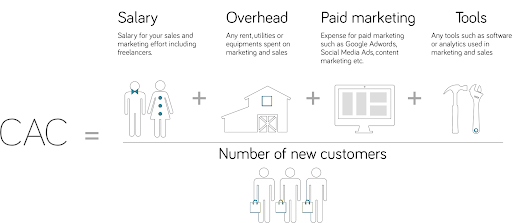 How to Calculate the Cost of Acquiring a Security Contract
Cost of Acquiring a Customer.

The cost of acquiring a customer (CAC) is the total sales and marketing cost required to earn a new contract over a specific time. The key to this metric is consistency. Pick a period and always measure that one. This will help make better decisions in the long run.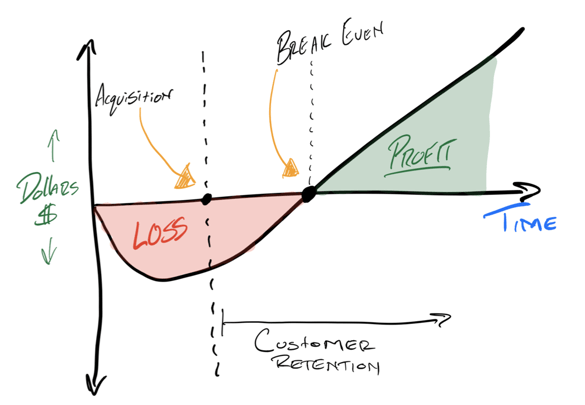 Measure Your Marketing Efforts Over Contract Lifespan
Customer Lifetime Value.

The customer lifetime value (LTV) indicates the total revenue a security business can reasonably expect from a single contract. It considers a customer's revenue value and compares that number to the company's predicted customer lifespan. This image breaks down the equation simply. Like with CAC, make sure that you measure the same period every time.
Make the Most of Your Marketing Dollars with Trackforce Valiant + TrackTik
The key to digital security marketing is consistency across all points of contact with a potential customer: your website, social media profiles, online listings, and any other collateral you have are great places to start. When you are just starting your security company, the best thing about digital marketing is that the out-of-pocket costs aren't very high.
Still, digital marketing can be confusing. Without the right focus and marketing tools, it can be easy to get lost in information and channels and spend money that never comes back to your business. By starting simple and keeping efforts low-cost and metrics-driven, you can ensure that your digital marketing strategies are not a waste of time.
For additional help in digital marketing, join our webinar and download our Security Marketing guide.