The private security industry has a problem that most business owners have just learned to accept - turnover. Security officers turnover at a national average of around 62%.
There are a lot of reasons for this problem. But in order to fix it, security company owners need solutions. The bottom line is, winning contracts and offering security services is only possible when you have the best security officers to man posts and conduct patrols.
Learning how to take care of and empower officers will bring success to security operations of all shapes and sizes. There are three steps that will help build stronger security teams, limit turnover, and win more contracts.
Create Company Culture
Establish Structure Through Expectations
Pick the Right Supervisors
Create Company Culture
Having a strong company culture is the foundation of many successful companies across industries. A lot of times, the basis of a company culture starts with a mission statement.
Figuring out what kind of culture is right for a security company depends a lot on the ownership. What kind of company do you want to be known as? Do you run the kind of company you would want to work for? As simple as these questions sound, many business owners never actually answer them - which can lead to a lot of confusion.
Even though there's not necessarily a "right" or "wrong" company culture, certain values have a tendency to limit employee turnover and increase their loyalty. For example, when people feel like they can grow and succeed in a company, they are more likely to stick around. Too often in the private security industry, entry-level security officer positions can feel like a dead-end job with no opportunities to advance.
Companies that make it clear that there are opportunities to grow attract higher-quality employees that are more likely to stick around.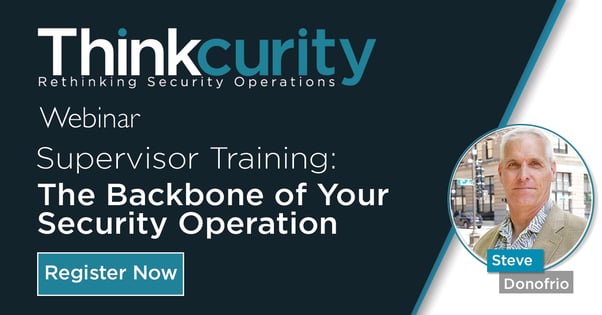 Establish Structure Through Expectations
After defining company culture, it's much easier to figure out how you expect employees to uphold that culture. These expectations need to be clearly defined through established structures in every area of your security operation.
Structure comes in a lot of different forms. A few examples include: reporting, chains of command, interaction with customers, and disciplinary actions for not meeting expectations.
This is a great area to involve your supervisor team. They know what works and what doesn't out in the field. Their input will help you make better decisions about implementing structure. And security supervisors feel a sense of ownership and loyalty to their role when they get to be a part of the planning process.
Once you have structures in place and expectations set, make sure they are clearly and regularly communicated to the entire organization. When expectations are made clear, employees will be able to better meet them. Plus, there will be no surprises when you inevitably have to talk to an employee about coming up short.
Pick the Right Supervisors
Noncommisioned Officers (NCOs) are known as "The Backbone of the Army." They are the leaders that make sure soldiers carry the values of the Army. Security companies should have this same mentality about their supervisors.
Having the right people in supervisor roles can make or break a security operation. So how do you make sure that you pick the right employees for the job?
Promote Qualified Candidates
Many times in the contract security industry, supervisors end up just being the longest running employee or the security officer with the most experience. That does not always mean that officer is the best fit for a supervisor or management role.
Make sure that any security officer you are considering promoting to a supervisor position actually wants it. There's nothing worse than a supervisor who is uninterested in having more responsibility or feels unqualified.
It's still important to look at qualifications. Promoting an officer who doesn't have the experience to handle tough situations can do a lot more harm than good no matter how badly they want to be a supervisor.
Training
Having high training standards for all employees in your company should be a priority. When you focus on training, it will show your security teams that you are willing to invest in them. It will also make every security officer more qualified to one day become a supervisor.
Creating Paths to Leadership
This is another great structure to implement. Giving ambitious security officers clear steps to promotion and higher pay will motivate them to work harder which will benefit your company in the long run.
Having potential supervisor candidates complete a certain amount of hours on duty as a flex officer will provide on-the-job training that will help them succeed as a supervisor one day by performing some of the responsibilities expected in a leadership role.
Work with your current supervisors to talk about what skills and experience they think is necessary to be a great leader. This is one of the best ways to figure out who is most qualified to be promoted in the future.
Having strong security teams that work hard and are loyal to your company will without a doubt make you more successful. These three steps can make a huge difference in any size security operation, no matter how long it's been around.
Start with creating a company culture that makes people excited to come to work. Establish a structure based off of that culture that clearly communicates expectations to every level of your organization. Most importantly, invest in building a strong supervisor team to support and implement these goals.