Thinkcurity was founded in August 2019 on a mission to revolutionize education and business development in the physical security industry through engaging content and thought leadership. That goal is being taken to the next level with the inaugural Virtual Physical Security Summit.
What is the Virtual Physical Security Summit?
Thinkcurity's first-ever online virtual summit will be a 2-day online experience hosted by some of the physical security industry's top experts. Each day will feature unique sessions covering the most pressing topics to the industry. And, like all Thinkcurity events - it's completely free to attend.
Watch the 2020 Summit On-Demand here!
By attending the Virtual Physical Security Summit, you will get all of the benefits you would expect at an in-person conference or trade show without the hassle and expenses that come with attending them. From your office or home, you will be able to easily access sessions run in 4 helpful and engaging formats: Keynote Speeches, Round-table Discussions, Live Q&A, and Product Demos.
Keynote Speeches
Gain skills and knowledge you need to grow your business by hearing directly from credible leaders in the physical security industry. Each of the keynote speakers will bring their unique perspective on how you can improve your security organization and ultimately grow your business.
Round-table Discussions
One of the most effective resources for making positive changes in your business is to see what other people are doing. Join round-table discussions where security professionals just like you will talk through common issues in the industry with industry experts.
Live Q&A
Get your questions answered by the people who can help you most. Keynote speakers & industry experts will be on-hand live to offer specific advice to your unique problems. During round-table discussions, ask questions of your peers in the security industry and see how they handle similar situations in their organizations.
Product Demos
Using technology is one of the easiest ways to improve security operations in 2020, but knowing how to use that technology effectively can be a hurdle. Each day of the online event will feature security software experts who will show you the best ways to use modern security management solutions to solve problems & improve daily operations.
What's in it for Me?
As a security professional who is always on the move, your time is valuable. That's why all of the content featured in this online event is being carefully selected to make sure you get the most out of every session. Here are 6 reasons you won't want to miss this event:
Learn - By attending the Virtual Physical Security Summit, you will get two full days of free access to thought leaders and security industry experts. They are all excited to share their knowledge and expertise with the entire industry.
Engage - Each session is designed to give you actionable tips & tactics you can use in your organization immediately.
Grow - All of the event speakers want to take the physical security industry to the next level. This is your best opportunity to develop the skills you need to become a better, more effective security professional in 2020.
Enjoy - Did we mention it's totally free? The only cost to attend is your time, but the ROI you will receive is priceless. Invite your coworkers, employees, and anyone in your network to join you.
Network - Meet & network with security professionals from around the globe. Plus, get exclusive access to ask your questions of top industry experts that you won't be able to find anywhere else.
Discover - Gain insight on physical security across a wide range of topics, disciplines, and perspectives. This event will give you a better understanding of what is happening in the industry at large and how you can take advantage of it for your company.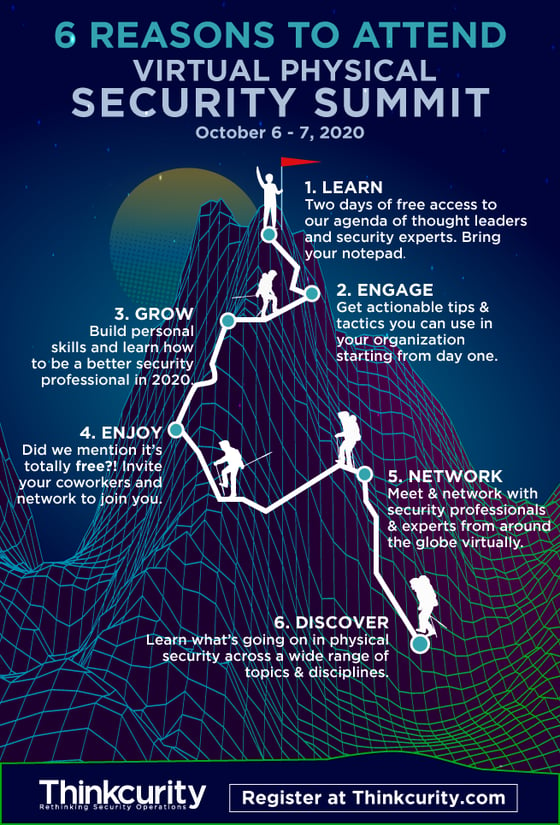 How do I Find Out More Information?
The final agenda will be released as we get closer to the event. If you want to be notified as more information is available, make sure to sign-up for the mailing list and follow us on Facebook and LinkedIn. If you have any immediate questions, reach out to info@thinkcurity.com.