Have you ever thought about trying to win contracts in a brand new industry? If you have, you know that every new industry you try to enter as a private security contractor usually brings a new set of challenges to your operation.
One industry that a lot of guard firms look at getting into is healthcare. It makes a lot of sense. There are over 6,000 hospitals and 18,000 total healthcare facilities in the U.S. The healthcare industry spends $1 trillion annually. But it also comes with a lot of challenges.
The healthcare industry is one of the most regulated industries in the United States. That regulation includes healthcare-specific security services.
Tony York, one of the most trusted names in the healthcare security space, did a Thinkcurity webinar about the basics of serving the unique and complex issues in the healthcare security industry.
In this article, we are going to look at 4 key areas of healthcare security for any physical security owners looking to get into this industry.
1. Understand the Role of Physical Security in a Healthcare Environment
Before you try to win your first healthcare security contract, you need to think about the role your security company will have in a healthcare facility. The potential client you are selling security services to should be heavily involved in helping you define the security systems they want in place.
Everything you do - from patrols, to incident management & response - needs to follow the mission and vision of care of the healthcare organization you are trying to win. Think about the security services you provide as a business function specific to the healthcare organization.
Bottom line: in your initial meetings with a potential healthcare client, ask them questions that will help you know what specific security systems they are looking for in their security provider.
Now that we've got a foundation for healthcare security, let's look at a couple of best practices that will help you determine the needs of a healthcare client.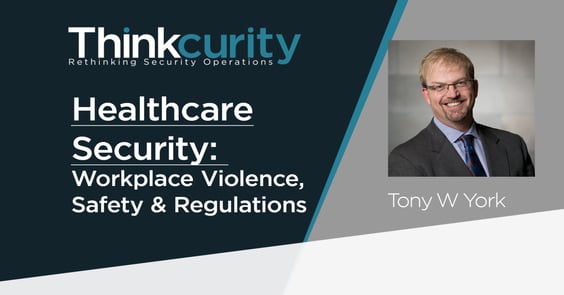 2. Psychological vs. Physical Safeguards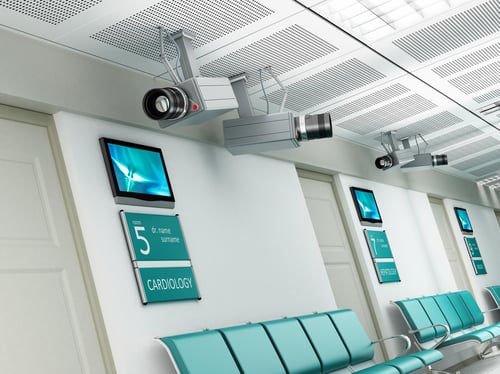 In the 6th edition of Tony York's book, Hospital and Healthcare Security, he discusses using psychological safeguards vs. physical safeguards on hospital security patrols. Psychological safeguards include things like signage that says "Video Monitoring in Progress" or security camera monitors that are in plain sight of visitors.
Tony says that video monitors are one of the most effective psychological safeguards for healthcare security because most people's eyes are drawn to video feeds.
Physical safeguards include things like actual security officers, security cameras themselves, and lighting. Basically, a physical safeguard is anything that actively helps contain and prevent security threats.
Sometimes, psychological and physical safeguards can be the same thing. Take a security officer, for example. The security officer is stationed to actually respond to incidents, but people who are potential threats are less likely to act when they see that there is a security guard on site.
When you are thinking about the safeguards to put in place at a healthcare facility, try to create as much overlap between the two as possible. Your security system will be more efficient and more effective.
3. Conducting Security Patrols at a Healthcare Facility
An effective security patrol at any type of property has some general rules for success like using guard tour software to conduct patrols, thinking about common checkpoint types, and having a good reporting system.
In healthcare security, there are 9 key areas specific to healthcare facilities that you should know about before you meet with a prospective healthcare client:
Inpatient facilities: These areas have a lot of overlap between patients, visitors, and employees. Ask questions about the layout and foot traffic of these areas to include high-risk services.
Emergency departments: There is a lot of chaos and high emotion in emergency departments. It's important to be a calming presence and maintain order while keeping access as clear as possible so the right people can get where they need to go quickly. This is a 24/7 area, so keep in mind constant internal and external access points for ambulatory (ambulance) and non-ambulatory operations.
Behavioral & mental health areas: These areas can have a higher risk of violence because of the condition of a patient and a lot of times require a different security response (including uniforms).
Pharmacies: Storing narcotics and controlled substances increase the risk of theft and have unique risks in the environment. Having extensive physical safeguards and guard training in place here is important.
Cashiers/cash collection areas: Again, there is a high risk of theft in these areas. Internal theft can be as much of a problem as visitor/patient robbery. Ask the client questions about their protocol for collection, transportation, and storage of money.
Infant/pediatric facilities: Infants and pediatric patients are incredibly vulnerable. Even though it is rare, infant abduction is a real threat. Having systems in place for prevention is key. Having an extensive risk mitigation plan - including video monitoring, access control, staff training, and response planning - is critical.
Protected health information: Hospitals have a lot of private information about patients. The security officer on patrol has to protect confidential patient information at all cost. It is absolutely critical to healthcare security. Pay attention to how patrol and training can help protect that information physically and digitally.
Utility/mechanical/infrastructure areas: This is an area that needs attention at any facility that has it. Ensuring that things like heating, lighting, and electricity are working is really important to maintain patient safety.
Biological/chemical/radiation areas: Highly hazardous materials stored in these areas can bring massive health risks if they aren't stored and handled properly. Ask your potential healthcare client about how they currently manage these areas and any specific needs they have managing hazardous material areas.
4. Patient Violence & Protecting Healthcare Workers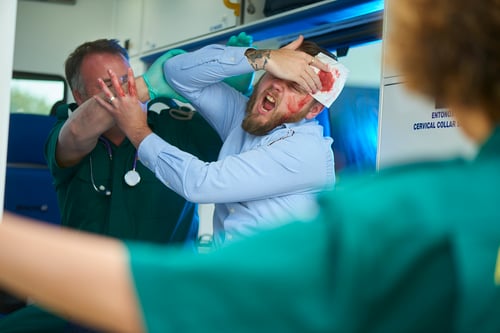 Patient-generated violence is a real problem at healthcare facilities. A 2018 survey found that 70% of emergency nurses said they've been hit and/or kicked on the job. It also found that 47% of emergency physicians say they've been assaulted. Any security company looking at this industry needs to include this as part of their security plan. Start by understanding that verbal and physical intervention are basic expectations of a healthcare security officer.
If you have a potential healthcare client, asking them what protocols they have for violence prevention and response will show that you have done your research. If they don't have a protocol, offering to help them establish one can make you a trusted partner.
Hopefully, this article will give you enough to get you thinking about what you need to know before you enter the healthcare security industry. If you want more information about this industry from one of its most respected experts, check out this Thinkcurity webinar with Tony York!